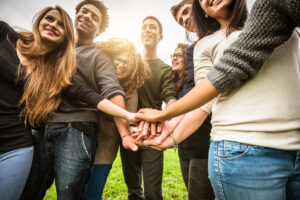 As an educator in an Atlanta area private school that is diverse by design, I have seen firsthand the important role that school plays in developing healthy youth who will become the kind of adults we need to run our society 25 years from now. For nearly a decade, I have been a middle school educator, working alongside young people as they find their place in the world. My work in the classroom led me back to pursue a Ph.D. in teaching and learning with a research focus on self-directed learning.
In 2018, I cofounded The Forest School, a self-directed learning environment with an ambitious mission to help everyone who enters its doors find a calling that will change the world. ­This mission is controversial. It assumes that schools play a role in shaping young people and that those young people in turn play a role in shaping the world. As such, at The Forest School, we are interested in the types of people we are cultivating. This inevitably leads to questions of morality, ethics, and character: what do we call good and wise and right? Our school is non-religious and multi-cultural—a microcosm of American society. How then does our learning community deal with questions of virtue?
To find answers to these important questions, I joined The Institute for Advanced Studies in Culture at the University of Virginia as a postdoctoral fellow assisting in the Moral Ecology Project—a multi-year study into the forces that shape the moral lives of young people. We are attempting to build an instrument that will help school communities navigate the complex space of morality and character formation.
Imagine you are a school leader and are curious about how parents and community members view America's place in the world, the role of race in contemporary society, or the trustworthiness of our democratic institutions. At a time of increasing polarization in American society, it is difficult for teachers and school leaders to know how to meaningfully engage students, parents, and community members on so-called "hot button" issues. In fact, many state legislatures (including our own in Georgia) have enacted laws restricting discussion and exploration of "divisive concepts" in the classroom. Rather than "rock the boat" and risk litigation, many schools will avoid meaningfully engaging students, parents, and the community in having discussions, learning from each other, and reflecting upon how their understandings of morality and virtue shape their views of the world.
That is where my current research comes in. I am part of a small team working to create a data collection tool for school leaders that will give them a snapshot of the moral ecology of their community. Our instrument is designed as a starting point. A school leader can employ a survey to stakeholders—collect data from teachers, parents, and other stakeholders—as way to gain an outline into the complexities of their thinking. You can think of this instrument as a thermometer—a way to gauge the temperature of potentially divisive issues—allowing the collection of data from the community to inform school leaders on how to respond. How might the relationships between schools and parents be strengthened through dialogue, especially around areas of greatest disagreement, and the whole community work together on a way forward?
This is, in theory and practice, the democratic principle. The founding motto of the U.S.—E pluribus unum, "out of many, one"—highlights the hope that disparate, distinct persons with their own views of morality, authority, and goodness can indeed create a cohesive society. It is true that care must be taken to ensure that all members of a society can fully and freely access its goods. This is all the more reason for community engagement around our approach to schooling: it is about who does and does not feel included in the current design of a school.
The instrument we are building at IASC is designed to give school leaders insights into what stakeholders have to say about the school's role in the development of character. The goal is to create something useful that allows any school (public, private, or charter) leader to get feedback from teachers, staff, parents, and community members on sensitive but crucial topics and then provide a visual story of that data, which school leaders can employ however they wish. We are piloting the instrument at The Forest School (one of three pilots this year) and will analyze the data as a team. We will then take the lessons learned and revise the instrument, following up with another round of pilots later this year or next year.
Our schools are shaping our children, but shaping them into what and for what reasons? Let us talk about this together.
Caleb Collier is a postdoctoral fellow at the Institute for Advanced Studies in Culture at the University of Virginia.